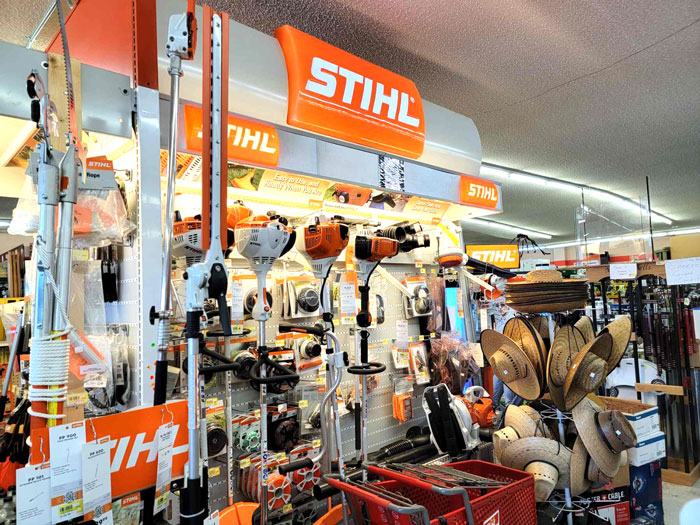 Our Selection
As an authorized STIHL power tools supply store, we take pride in bringing local-area customers a complete selection of proven products. We offer various options and accessories for STIHL chainsaws, weed eaters, string trimmers, leaf blowers, hedger trimmer, bush cutters, pressure washers, lawn mowers and more. We have several chainsaws, trimmers and other products in-store.
Our status as an authorized dealer means we can order anything direct from the manufacturer. Stop in today and customize your power equipment order. Once placed, it takes 3-4 days for us to receive the merchandise in store, where you can pick it up and get a quick overview from one of our knowledgeable reps.
Gas or Electric Options
No matter your preference between gas and electric products, we can order them for you! STIHL offers gas and electric products—both corded and cordless (battery). Tell us what product you need and we'll make sure you get it in the capacity you require, from gas-powered commercial-grade equipment to low-cost electric models.
The Best in the Equipment Business
STIHL products are the best in the industry, backed by an unbeatable warranty. To take full advantage of STIHL equipment, come to Stewart Hardware. We're the authorized STIHL outdoor power equipment dealer for Wickenburg, AZ, able to order direct from the manufacturer.
Call Us Today
Stop in today to browse our STIHL power tools supply store or contact us at 928-684-2944 to order products that are right for you. Our well-trained staff will be glad to explain the features and benefits of every product, from Stilh tools to lawn and garden supplies, plumbing to electrical supplies.